Uh, yeah. So you know that I, a woman who is 6 months pregnant, attended Ozzfest on Saturday. By choice. Although I never, ever, had ever had any interest in previous Ozzfests. Nor do I even remotely like a majority of the bands that usually play. But this year was special, because once Ryan heard that Iron Maiden was playing, he just had to go. So I obliged and bought him tickets for his birthday. I wasn't particularly excited about going, figuring that I'd be miserable and pregnant in the heat all day, but I paid 85 bucks for 2 tickets and I was going to see Iron Maiden, dammit. If only to say that I saw them.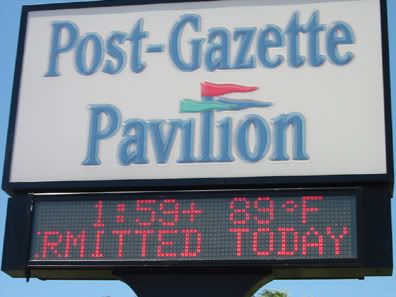 As you can see, it was hovering around 90 degrees when we got there at about 2. The first band started playing at 9:30, so we missed a lot of the second stage bands. That was fine with me and fine with Ryan, because most of them were crap bands. So we hung out at the family trickster for a while. Here's me tailgating with my Gatorade.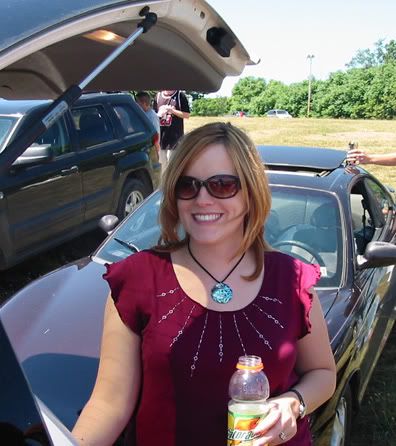 The only person that I cared about seeing on the second stage was Rob Zombie, and we caught the tail end of his set, which I was a little disappointed by. Number one, he doesn't have dreads anymore, which rules him out as hot. Secondly, he was wearing a blue tank top and jeans, which takes away from his cool factor. Rob Zombie, what happened to you? You were so scary looking and hot before. Gah! Not to mention that we were so far away from the stage that I could barely see anything. This was my view. You can see Mr. Zombie in the bottom left hand corner in his BLUE TANK TOP.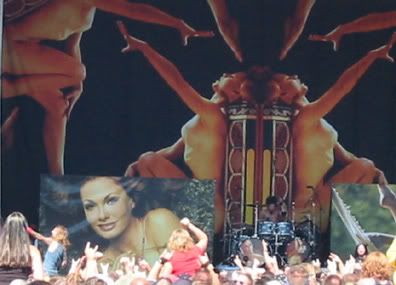 We proceeded to look around at stuff, like the 25 to 30 dollar t-shirts (rip off) and the overpriced cheap looking hippie jewelry. There was some cool stuff to look at, like the metal babies stuff, but that might have appealed to me for different reasons.
What else appealed to me was the people watching. There were many, many badly dressed people there. I've never seen such a congregation of horrifying outfits. It was awesome. I felt like I was at the freak zoo. Here's just a taste: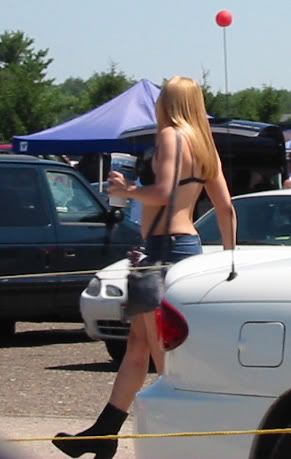 As you can see, this girl forgot some integral parts of her outfit. Like her shirt. And a good portion of her skirt. In the real world this lovely lady would affectionately be known as a prostitute. But this was honestly how 50% of the women there were dressed, and let me tell you, some of them really shouldn't have been dressed like that. Of course there were also the girls in the gigantic pants and oversized t-shirts that had chains draped all over their bodies, which coordinated nicely with the guys who were wearing full length leather dusters (yeah, remember how it was 90 degrees?). Then there was the girl in a pair of black underwear with a black bra on and some hideous mesh tights with gigantic black clunky boots. And let's not forget, the many women who braved the elements by taking off their shirts and having their boobies airbrushed. They taped over their nipples, of course. BECAUSE THAT MAKES A DIFFERENCE. Unfortunately, a majority of the boobs were quite saggy. Sorry I couldn't get a good picture. But does this make up for it?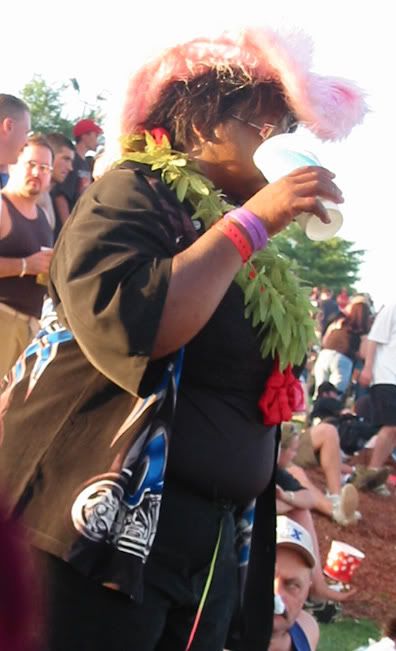 I didn't really invest much in paying attention to the bands, because I didn't really care. I wanted to see three out of the 20 or so (I didn't pay attention, remember?) bands that played, Rob Zombie, Iron Maiden, and Black Sabbath. Ryan knew a lot more of the bands than I did, so I spent a good part of the day just watching the shit going on around me. I watched some guy passed out in the sun just to make sure he was still alive. He slept through 5 bands, at least. Then I saw a guy get knocked out and fall flat on his face. That's when Mr. Sleepy Pants woke up and moved. Finally, it was time for Iron Maiden, who played second to last. This is them.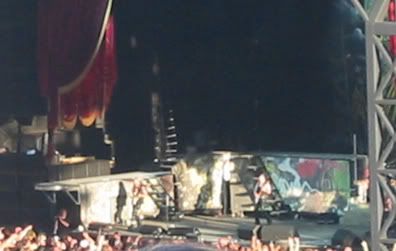 Watching Ryan watch Iron Maiden was more exciting to me than watching Iron Maiden. He was like a little kid. I thought he might start peeing his pants or jumping for joy. I think quite possibly that seeing Iron Maiden was the highlight of his summer. Seeing him that excited made my whole day worth it. Here he is, drinking and being excited during their set.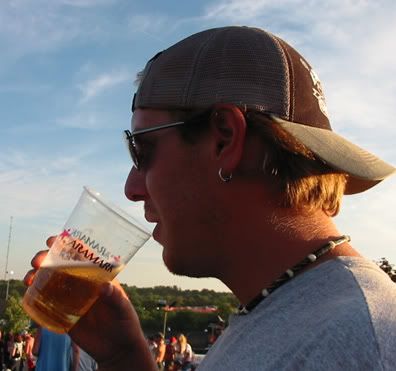 So out of every band I saw that day, of course Iron Maiden was the best. No question about it. I've barely listened to Iron Maiden, I can sing probably 2 of their songs to you (my favorite being Run to the Hills), but they were so METAL. And so British! British Metal!!! I've never seen a band like that EVER. A bunch of long haired guys (with the exception of Bruce Dickinson, I think) banging their heads and running all over the stage with guitars. At the start of one song, Bruce said, "if you don't like this song, you should be seeing Dave Matthews right now instead." Well, Bruce, really, I wouldn't mind seeing Dave Matthews, I'm actually a fan, but I've never seen him live… Ok, calm down Maiden fans. I'm only joking. (psst, blogger friends, I'm not joking, I really would like to see Dave Matthews some day). Here's one of those Maiden fans, who I thought was going to give himself whiplash: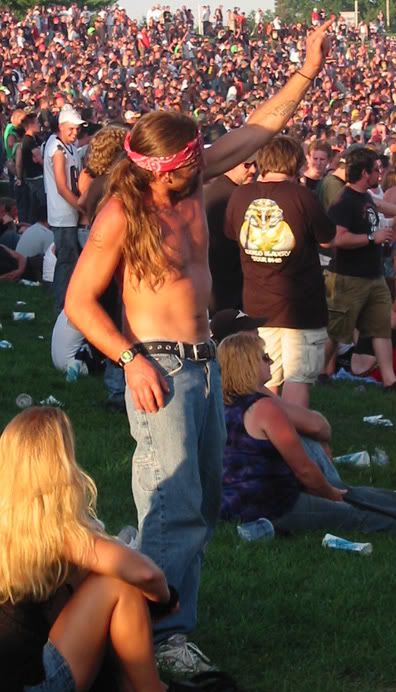 Sabbath played last of course. There was a lot of energy leading up to the start of their set. By this time most people in the crowd were wasted and getting busted for smoking pot or fighting or whatever. It was finally getting dark out, so the screens around the stage were turned on, which was beneficial to people like me, who were as far away from the stage as you could possibly get.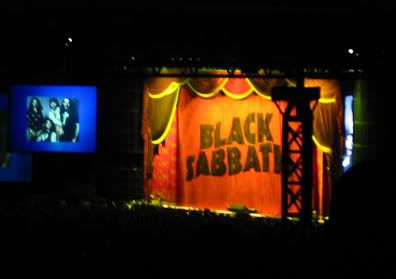 Then there were the lighters.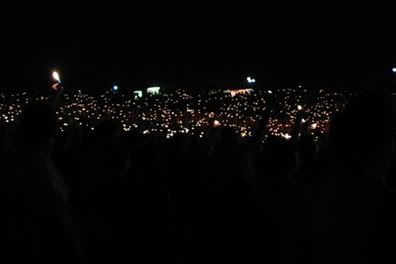 Those same lighter holders then used those lighters to make garbage fires all over the lawn the entire time Black Sabbath played. I bet the security team was sick to death of running around putting out fires all over the place.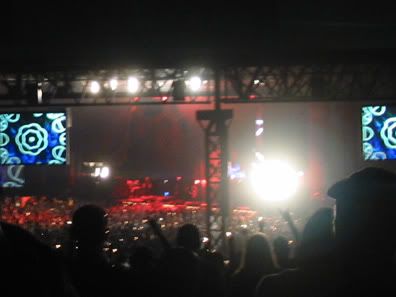 As cool as it is to say that I saw Black Sabbath, who, don't forget, were originally a hippie band called Earth, they have seen their heyday. And it's long gone. Ozzy was energetic, he wasn't stumbling around and incoherent like I half expected him to be, but he sounded like shit. He was just off his game. Ryan was sad and drunk at this point and kept babbling about how all his heroes were dead. I knew then that it was time to go.
After waiting for about 45 minutes in the parking lot for traffic to die down, we decided just to go. The drive home was fairly uneventful, besides the 5 miles of traffic that crawled along for 20 minutes. We made it home by 1:00 and I was sleeping by 1:30.
For some reason I had heavy metal nightmares.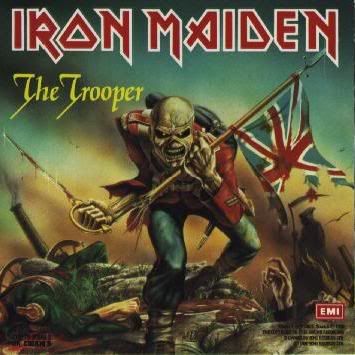 I can't imagine why.