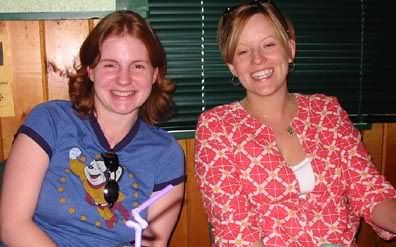 Here are Julie and I, trying to remain happy and calm, even though there was a Corvette hanging upside down from the ceiling in very close proximity to both of our heads.
If you've never visited a Quaker Steak and Lube, let me tell you, it's not just a restaurant, it's an EXPERIENCE. Obviously the theme is anything that has an engine, so you'll find random motorcycles suspended off the walls and cars hanging from the ceiling. Just how do you hang a car from the ceiling? Can I hang my Mitsubishi off the ceiling of my house? No, because the roof would come tumbling down. HOW DO YOU DO IT?
At any rate, the Lube is most famous for its chicken wings and its Bike Night. Now it's famous because me and Julie were there. Because anything on my blog becomes instantly famous, you know. (Lie.)
The day started out like any normal E-Lo Sunday, except for the fact that it was the first extremely hot day that Western Pennsylvania had seen since last August. It has stayed very hot since then, so I'm convinced that it was indeed Julie with her flaming red hair who brought the heat.
After the hour drive to Sharon in my car without an air conditioner (and getting mildly lost, thanks to Mapquest – EVIL), Starr, Michelle and I were finally there and practically ran in the door to get into the air conditioning. But first at quick stop at the door's main attraction (Starr and Michelle, you are going to LOVE ME! But hey, you knew this was going on my blog, right?):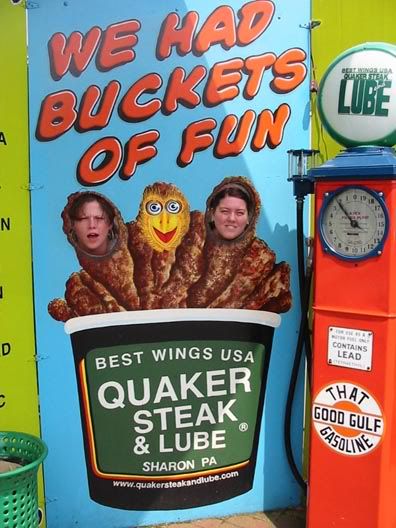 Don't worry, you can laugh at me later, too.
Standing inside, I wondered if I'd recognize Julie if I saw her, since I've only seen a couple pictures of her. Starr asked me if I knew what she looked like, and I said, "she's little and has red hair." Not even a minute after I said that I spotted Julie outside the door. I knew it was her right away. Naturally I shimmied over to the door (because I can't really run properly anymore… it's more of a shuffle/shimmy) and pressed my face up to the window and gave her my big E-Lo smile. Yay! It was Julie!
Julie brought her friend Kim, who impressed me right away with her Hogwarts t-shirt (and later the fact that she based her thesis on Harry Potter). So we got a seat, and the fun began.
We chitchatted and laughed about a bunch of different stuff, very little of it pertaining to blogging (hey, it was a Sunday), and if you read Julie's blog (chances are you do if you read mine) you know that Starr actually knows Rick's brother and his kids. Crazy, small world shit. In the gear head atmosphere, us Butler girls shared our experience of the Butler gear heads that we know (actually, we just made fun of them). Topics of interest also included the powdered egg breakfast at Julie and Kim's reunion, how immature men are, greasy onion rings on a stick, Jesse peeing on the couch again, and the Target in Brooklyn. I found out about ratemyprofessor.com, where Kim is rated as "chili pepper" for HOT, and geocaching, which I really, really want to do one of these days. We stayed there talking and laughing long after we got our checks, and then finally it was time to go.
But first, on our way out the door, Julie and I became chicken wings.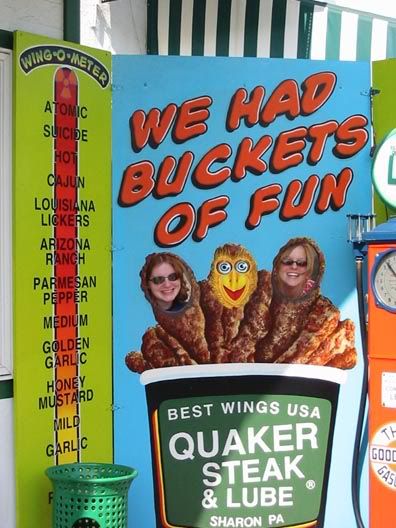 Go ahead, point and laugh at your monitor.
At Quaker Steak, the hottest wings you can get are the "atomic" wings. I believe you actually have to sign a waiver to eat them, because they are so fucking hot. There's a sign in the bathroom that basically says, "if you just ate the atomic wings, wash your hands BEFORE you go to the bathroom." They're hot enough to burn your undercarriage off. Believe me, if Julie and I really WERE chicken wings, we'd be the atomic flavor. Rick and Ryan are truly lucky that they don't have third degree burns from our hotness.
I'm not sure what the chicken wing between us is all about. Since there's no "acid" flavor chicken wing, I just have to assume that if you eat the atomic wings, you'll be tripping in no time. Check out his eyes.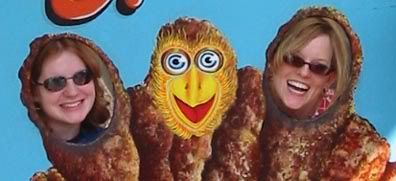 So Julie and I got to share our first blogger meeting experience (aaww) and it was so cool. It's also kind of weird to actually meet someone you feel like you kind of already know for the first time. Weird in a good way, of course, because weird is always good for me.
To sum up: